Greetings to all of our club members, visitors, and guests!
We welcome you to the regular meetings of the North Houston Astronomy Club on the 4th Friday of every month.
Currently, our club has its monthly meetings at the Montgomery campus of the Lone Star College system for 2018.
Lone Star – Montgomery Campus is north of the Woodlands, TX on the East Side of I45 and West of the WG Jones State Forest near SH 242.
Click below here for a Map of the Campus (Parking permits are not required after 6 PM!)
Click Here for Directions from Google Maps: Directions to Montgomery
Click Here for Directions from Mapquest: Directions to Montgomery
Physical Address
3200 College Park Dr.
Conroe, TX 77384
---
Our gathering begins with the Novice Meeting:
Place: Lone Star College – Montgomery Campus
Location: Classroom Bldg. B (2nd Floor – Room B203)
Time: (6:30 – 7:15) PM
Speaker: Dr. Bruce Pollard, Ph. D. (NHAC Vice President)
---
Presentation
" Special Sights in 2018, Winter Constellations and the Aurora Borealis"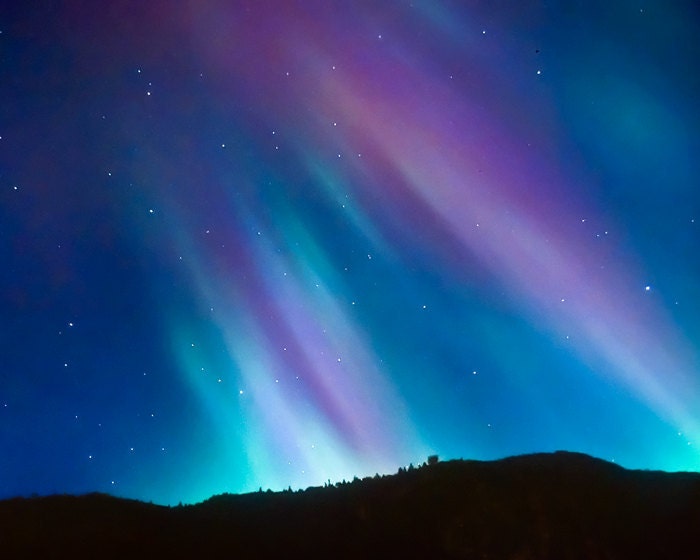 Dr. Bruce Pollard will talk about the nature of the Aurora Borealis and the constellations of the winter night sky at our January novice meeting. The constellations of the winter night sky are shown in the lower above image within the famous 'Winter Hexagon' asterism. The upper above image was taken of the Aurora Borealis (known as the northern lights).  There are many wonderful constellations to observe naked eye during this time of the year; Canis Major, Canis Minor, Monoceros, Orion, Gemini, Auriga, Taurus, Puppis, etc. All are home to some very famous DSOs 'Deep Sky Objects' and a great many famous double stars such as the Orion and De Mairan's nebulae (Messier 42 & 43 respectively) and 145 Canis Majoris (known as the 'Southern Albireo). All Aurora Borealis effects can be traced back to Solar activity interact with particles of the Earth's upper atmosphere with the Earth's magnetic field generating lots of colored lights!
Come to the talk to learn more about the winter constellations and the Aurora Borealis!
Below is a series of links extending on Dr. Pollard's talk
---
Our monthly gathering will conclude at the General Meeting:
Place: Lone Star College – Montgomery Campus
Location: Classroom Bldg. B (1st Floor Auditorium – Room B102)
Time: (7:30 – 10:00) PM
Speaker: Annie Wargetz
(Founder NHAC member and Solar System Ambassador Volunteer/JPL)
---
Presentation
"Missions Launching in 2018: TESS and InSight"
Annie Wargetz is a life-long space enthusiast who remembers watching the Shuttle launches live on TV with her mom growing up. She holds an undergrad degree in Communications (Advertising) from UH and her masters degree from University of North Dakota is in Space Sciences, where she focused on human spaceflight, specifically human spaceflight physiology and psychology. She has worked on two NASA missions, including the Orion Spacecraft leading up to its EFT-1 mission as well as the OSIRIS-REx Asteroid Sample return mission. She's here tonight, though, as a NASA/JPL Solar System Ambassador Volunteer, which she'll explain more in her presentation. She's really honored and excited to be here tonight at NHAC, of which she was a founding member, to talk with everyone about two missions launching this year! Her presentation "Missions Launching in 2018: TESS and InSight" covers two very exciting missions. InSight is going to study among other things, the seismology of Mars, in other words, are there earthquakes, or rather Marsquakes, on Mars? TESS is going to take our search for exoplanets even further by studying more than 200,000 stars in our neighborhood to see if planets are crossing in front of their host stars.
TESS (Transiting Exoplanet Survey Satellite) is a NASA spacecraft on a two-year science mission to discover and explore exoplanets orbiting the brightest stars in the skies as observed from our Solar System in a first-ever 'All Sky Survey' of an orbiting spacecraft in search of planets from Earth-size to the largest gas giants. InSight Mars Mission is the next NASA science lander mission to the surface of Mars and the first robotic lander since the Phoenix mission in the northern polar region in May 2008.  Insight is different from the Phoenix in spite of having the same engineering layout and design in that it will be the first probe to study the interior and subsurface of the planet Mars to compare its history to Earth and the formation of the Solar System.
TESS and Insight are both scheduled to launch in the middle of this year.
Below is a series of links extending on Annie Wargetz's Talk
---
Blue Moon in Total Lunar Eclipse (31 January 2018)
On the last day of January 2018, we will have a total lunar eclipse during the Full Blue Moon! This is a very rare event although a Blue Moon happens on average once every 972 days (~2.7 years) a total solar eclipse during a Full Blue Moon has not occurred in more than 35 years. The last one occurred on 30 December 1982 when there were two full Moons during the Moon of that year and the next one will not take place until the night or 30 – 31 December 2028. It will not be visible from the Houston area, so you will to prepare a trip to Asia, Australia, or anywhere in the East Pacific to observe it!
Details for the this upcoming Total Lunar Eclipse during a Blue Moon can be found at this webpage from the events section: