Greetings to all of our club members, visitors, and guests!
We welcome you to the regular meetings of the North Houston Astronomy Club on the 4th Friday of every month.
Currently, our club has its monthly meetings at the Montgomery campus of the Lone Star College system for 2018.
Lone Star – Montgomery Campus is north of the Woodlands, TX on the West Side of I45 and East of the WG Jones State Forest near SH 242.
Click below here for a Map of the Campus and Driving Directions!
(Parking permits are not required after 6 PM!)
Physical Address
3200 College Park Dr.
Conroe, TX 77384
---
Our gathering begins with the Novice Meeting:
Place: Lone Star College – Montgomery Campus
Location: Classroom Bldg. B (2nd Floor – Room B203)
Time: (6:30 – 7:15) PM
Speaker: Dr. Bruce Pollard, Ph. D. (NHAC Vice President)
---
Presentation
"Spring to Observe Galaxies"
Observing Beyond the Milky Way!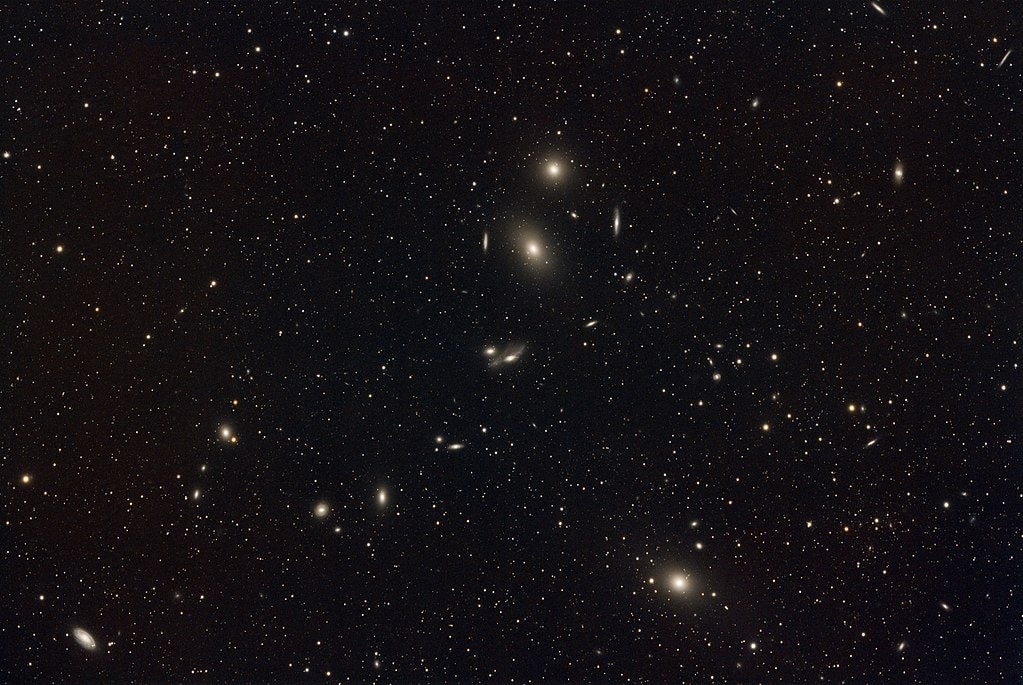 Our distinguished Vice President, Bruce Pollard will be doing a novice presentation on the skills and variety of objects to observe outside of the Milky Way Galaxy. It is during the Spring and Autumn months where the Milky Way Galaxy sets very early or rises very late after sunset and before sunrise respectively when the most predominant type of DSOs (Deep Sky Objects) to observe are Galaxies! Lots of Galaxies are especially dominant in the region of the Spring Constellations: Draco, Ursa Major (home to the famous 'Big Dipper' asterism), Canes Venatici, Coma Berenices, Virgo, Leo, and Corvus. Learn about the different types of Galaxies and the techniques plus equipment to observe these enormous islands of dust, gas, stars, planets, black holes, etc.. beyond the confines of our Milky Way Galaxy in the vast, deep ocean of intergalactic space.
Come to the talk to learn more about observing the celestial heavens beyond the Milky Way Galaxy!
Below is a series of links extending on Dr. Pollard's talk
GO FIND THOSE GALAXIES
Pick your Constellation!
---
Place: Lone Star College – Montgomery Campus
Location: Classroom Bldg. B (1st Floor Auditorium – Room B102)
Time: (7:30 – 10:00) PM
Speaker:  Kaci Heins
Education Manager
Houston Space Center
Presentation 
Formal to Informal
'Ways to Engage with Classrooms and Museums'
 Kaci Heins is the Education Manager for the Houston Space Center near the NASA Johnson Space Center home for the Human Spaceflight program. She was appointed by the Manned Space Flight Education Foundation, Inc. in 2016. She has an M.A. in Education with an emphasis in technology from SE Missouri State University and works in all areas of science education in the area of Space with academic institutions and private organizations involving scientists, educators, and students of all ages.
Her presentation for this coming monthly gathering will focus on the means and techniques on engage with schools and learning institutions and museums on how to engage young people and the general public in the education in the sciences especially with matters involving Space. Feel free to bring along any young person you may know or other individuals of any age including yourself to discover all of the various strategies, techniques, and newer methods in the education of the general public and young people in the Sciences and Space.
To Learn more about Science Education (involving Space):