Greetings to all of our club members, visitors, and guests!
We welcome you to the regular meetings of the North Houston Astronomy Club on the 4th Friday of every month.
The Kingwood campus is located on the west side of I 69 (US Highway 59), north side of Kingwood Drive, and NW of the Kingwood Medical Center.
Click below here to see the Map and Driving Directions!
(Parking permits are not required after 6 PM!)
See the following Campus Map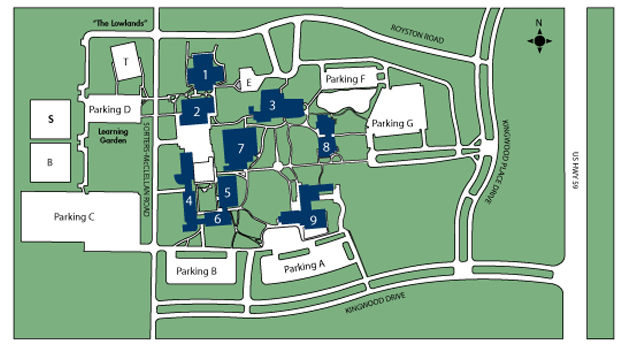 All Members, Guests, and Visitors park at the Parking Lot C across the Sortes-McClellan Road. The CLA building we both the novice and general meetings gather is building 4 as shown on this map. Click on the image above to get a pdf file with more information about the campus layout.
---
Physical Address
20000 Kingwood Dr.
Kingwood, TX 77339
---
26 July 2019
Our gathering begins with the Novice Meeting:
Place: Lone Star College-Kingwood Campus
Location: Classroom Building A (CLA) – (2nd Floor – Room CLA221)
The Astronomy Classroom
Time: (6:30 – 7:15) PM
Speaker: Bruce Pollard
(NHAC Vice President)
Presentation
Finding Clusters with Binoculars!
Dr. Bruce Pollard, our distinguished club vice president will once again present another one of his fabulously fun presentations. This one will be on the Finding Open Clusters with Binoculars. The first two steps towards the enjoyment of Astronomical observing are naked – eye and Binoculars. Naked – Eye observations are fun when searching for and identifying asterisms and constellations, phases of the Moon, observing the Milky Way, watching for meteor showers and satellites, and star colors. However, optical instruments to aid the eye with magnification are essential for one to move beyond the limits of the eye to fainter observations. Binoculars provide for more detail of non-stellar DSOs (Deep Sky Objects), features of the planets, Rings of Saturn, Moons of Jupiter, etc.. This presentation will provide the basics from the optics of Binoculars, picking the right pair, and the techniques for observation!
Learn more from the following References:
Astronomical League: A Guide for Observing Open Star Clusters
---
The gathering concludes with the General Meeting:
Place: Lone Star College-Kingwood Campus
Location: Classroom Building A (CLA) – (1st Floor – Room CLA112)
The Teaching Teacher Auditorium
Time: (7:30 – 10:00) PM
Speaker:
Speaker: Robert Brayton
(NHAC Northwest Chapter, CPP – Certified Professional Photographer)
---
Presentation
Robert is the owner and founder of PhotoVideoSound, a digital media production company serving the greater Houston area.  He is a second-generation freelance photographer with decades of study and application in digital engineering and arts: creating art and enhancing life experience through digital technology.  His vision is to enrich the lives of people and businesses through visual storytelling in still and moving life portraiture.
PhotoVideoSound provides forward-thinking solutions for commercial media by providing excellence in photography, video production, and sound design. 
Clients include Mercedes-Benz USA, Century 21, Snap Fitness, Civil Air Patrol (U.S. Air Force auxiliary), Bella Pictures, and Imagine Videos.
Robert served one tour in the U.S. Air Force as a computer repairman.  The training that he learned in the Air Force was so thorough that he used it to become a computer engineer.  During his 25 years as an engineer (including 10 years with Compaq/HP), he was awarded two patents and helped to invent several devices commonly used today.  Major Brayton served as the Commander of the Civil Air Patrol Delta Composite Squadron and is currently involved in Emergency Services, Aerospace Education, and Cadet Programs.
Before retiring from the field of computer engineering in 2006, Robert designed large scale redundant computer systems, artificial intelligence, cryptography, and researched and developed emerging digital hardware, firmware, and software systems for HP, Compaq, MCI, HSN, and NCR.  He has two patents.  His other interests include astrophotography, art, music, and Mensa.
Robert studied at Purdue University, LeTourneau University, Hollywood Film Institute (Feature Film Producer, Cinema Director, Line Producer Emeritus), Professional Photographers of America, Texas School of Photography, and the San Antonio Independent Christian Filmmakers Academy.  He earned the Certified Professional Photographer from the Professional Photographic Commission in 2012 and is currently working on the Photographic Craftsman degree.  He is currently or has been a previous member of the following organisations: Mensa, Toastmasters International (CTM), Professional Photographers of America (CPP), Texas Professional Photographers Association, Professional Photographers Guild of Houston (2012 Board of Directors, 2013 Secretary, 2014 Image Competition Action Team), Houston Professional Videographers Association, Houston Astronomical Society, North Houston Astronomy Club, and is a volunteer astronomer at Insperity Observatory.
To learn more about (Mr. Brayton & Astrophotography):
To learn more about (Photo Processing and Image Manipulation):