Greetings to all of our club members, visitors, and guests!
We welcome you to the regular meetings of the North Houston Astronomy Club on the 4th Friday of every month.
The Kingwood campus is located on the west side of I 69 (US Highway 59), north side of Kingwood Drive, and NW of the Kingwood Medical Center.
Click below here to see the Map and Driving Directions!
(Parking permits are not required after 6 PM!)
See the following Campus Map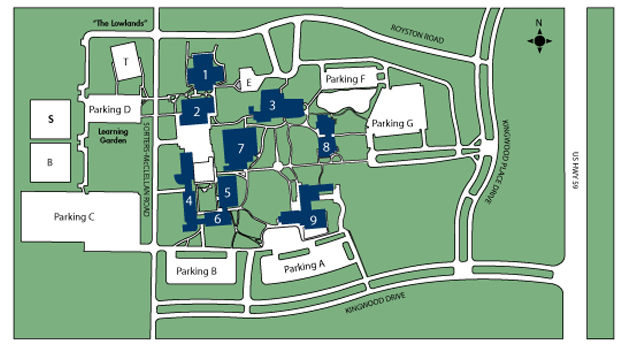 All Members, Guests, and Visitors park at the Parking Lot C across the Sortes-McClellan Road. The CLA building we both the novice and general meetings gather is building 4 as shown on this map. Click on the image above to get a pdf file with more information about the campus layout.
---
Physical Address
20000 Kingwood Dr.
Kingwood, TX 77339
---
 15 November 2019
---
Our gathering begins with the Novice Meeting:
Place: Lone Star College-Kingwood Campus
Location: Classroom Building A (CLA)
2nd Floor – Room CLA221
The Astronomy Classroom
Time: (6:30 – 7:15) PM
Speaker
Dr. Aaron Clevenson
'The Distinguished Director of the Insperity Observatory'
Presentation
Buying a Telescope!
Dr. Aaron Clevenson will discuss the types of telescopes available on the market that anyone starting off in Astronomy or wanting to add on to their collection of exploratory instruments to further enhance their stellar pursuits of the Celestial heavens. There are two major types of telescopes (refractors and reflectors), but they are divided into many subtypes from Apochromatic refractor for the perfect Astrophotographer to the basic Dobsonian for those pure at traditional, observational Astronomy. Many telescopes can be purchased; mount and all for $1000 or less and a lot more $$$$ should someone out there decided to give any Astronomer a very wonderful Holiday gift!
Learn more from the following References:
A Beginners Guide to Telescopes
The Ultimate Telescope Buying Guide!
---
The gathering concludes with the General Meeting:
Place: Lone Star College-Kingwood Campus
Location: Classroom Building A (CLA) – (1st Floor – Room CLA112)
The Teaching Teacher Auditorium
Time: (7:30 – 10:00) PM
---
Speaker
William W Leach
(Professor of Physics at Long Star Kingwood College)
A Founding Member of the North Houston Astronomy Club!
Presentation
The Big Bang Theory!
Professor of Physics and NHAC founding member, William W Leach will be our speaker at the general meeting to discuss the concepts of the 'Big Bang Theory'. The objectives for this topic are displayed below for all to follow as a precursor for this coming Friday:
What does the big bang theory actually say?
How did the theory develop historically?
What is the physical evidence behind the theory?
What does mathematics say?
This presentation will attempt to answer these questions!